Save the Date!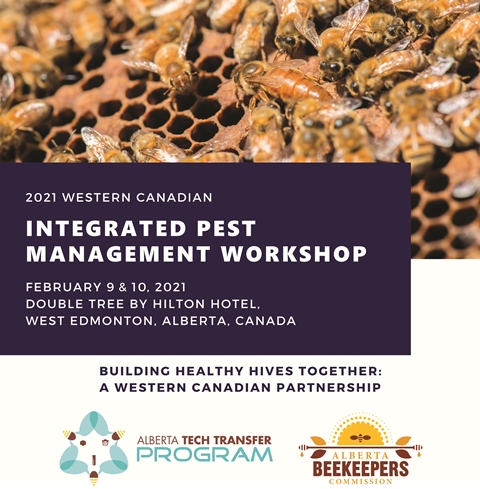 Announcing the inaugural Western Canadian Integrated Pest Management (IPM) Workshop and Trade Show event in Edmonton, Alberta in February 2021.
We're pleased to announce the Alberta Beekeepers Commission will be hosting the inaugural Western Canadian IPM Workshop and Trade Show event on February 9 & 10, 2021, in Edmonton, Alberta Canada.
This event  is designed to bring together beekeepers, industry groups and leaders, researchers, specialists, and trade exhibitors/suppliers from across Canada and the US to engage, learn, and share best practice through a series of presentations, panel discussions, interactive sessions, activities and trade show.
The 2021 IPM will provide the Canadian beekeeping industry with the ideal opportunity to host regional and national meetings in conjunction with this event, and we are pleased to announce that the Canadian Honey Council (CHC) and the Canadian Association of Professional Apiculturists (CAPA) will be joining us to host their Annual General Meeting (AGM) at the venue during the event. Additionally, CAPA and CHC will also be jointly hosting the Canadian Research Priorities Workshop during the event.
We hope that by collaborating across Canada and the US, we can continue to enhance and strengthen the beekeeping and honey industry and foster long-term partnerships that will support valuable industry growth."