Announcing the Alberta Beekeepers Commission 2019 PHOTO CONTEST!
The 2019 Alberta Beekeepers Commission photo contest includes three categories of entry, with one winner being selected in each category.
CATEGORIES:
A day in the life of a bee: Photographs of bees doing their thing, pollinating, beehives, frames, queens, drones, and workers in or around the hive
A day in the life of a beekeeper: Photographs of people interacting with their bees and/or their hives
Beekeeping through the seasons: Photographs of beeyards or hives throughout the year
The winner in each category will receive a $100 gift voucher!
Entries must be received no later than midnight, Monday, September 30, 2019. Photographs will be judged on clarity, content, composition, and appeal. Decisions of the selection committee are final and the committee reserves the right to not choose winners. Winners will be announced in the November 2019 issue of Alberta Bee News.
RULES:
All entries become the property of the ABC to be used and reproduced at the discretion of the ABC (for example, in the Alberta Bee News or in promotional material). If published, credit will be given to the photographer.
Entries must be submitted in the name of the person who took the photograph.
Entries must be submitted by email in jpg format (300 dpi minimum) to office@albertabeekeepers.ca. Include the following information in the body of your email with "Photo Contest" and the title of your photo included in your subject line. (Each digital entry requires its own individual email.)
Title of photo
Category (or categories) into which the photo is being entered
Photographer's first and last name
Phone number
E-mail address
Approximate location / date of photo
Acknowledgement that any persons appearing in the photos who are recognizable have granted permission for their image to be published.
Please contact Jules Ham at ABC with any questions: 780.489.6949. Send your entries to: office@albertabeekeepers.ca
Thanks to BeeMaid and Propolic-etc for the generous donation of gift cards for this competition.
Winning entries from 2018
Leaving
Category: Day in the life of a bee….
Photographer: Tanya Hardy Dubeau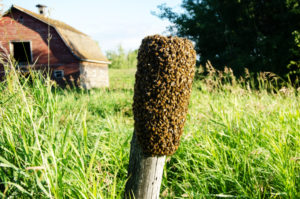 The Spring Clean
Category: Beekeeping through the seasons…
Photographer: Clif Hagstrom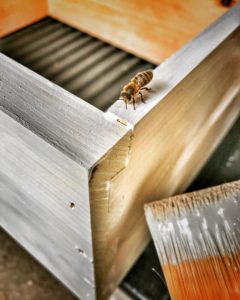 Just Tuning my Frames
Category: Day in the life of a beekeeper…
Photographer: Nichol Piniak