The ABC is pleased to present the 2021 Integrated Pest Management (IPM) Workshop on Wednesday, March 10, 2021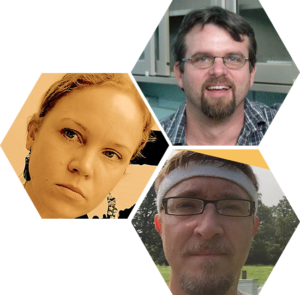 We are pleased to confirm that the upcoming Integrated Pest Management Workshop is going ahead, but to ensure the health and safety of all guests and speakers, we have transitioned this workshop event to a 1-day online webinar format.
Join us to hear from a diverse range of talented speakers who will provide you with the latest in research and best management practices to help keep your bees healthy.
We appreciate your understanding with moving this event to a 100% online format, and understand that it is disappointing that we can't yet gather safely in person.
However, we have incorporated a number of engaging fea­tures to ensure your workshop experience includes a valuable mix of education, networking, and fun.
View/download the full agenda here
Speakers highlights include:
  Dr. Steven C. Cook, Research Entomologist, USDA
  Dr. Dalial Freitak, Researcher, Department of Biosciences, University of Helsinki
  Dr. Kirk E. Anderson, Research Microbiologist, Carl Hayden Bee Research Center
Workshop details:
Wednesday, March 10, 2021
Time: 9:00am – 4:30pm
Online webinar $30.00
Click here to view the IPM workshop agenda. *Agenda subject to change
---

We have launched an IPM online auction and thanks to our generous sponsors and industry partners, we have some great items up for auction as part of the workshop. The auction launches on Wednesday, March 1, and will close at 5:00pm on the day of the IPM, Wednesday, March 10, 2021.
View all the items that have been generously donated by our valued industry members here, and place your bid now! All money raised goes to support the Alberta Tech Transfer Program.
---
Bees & Beers Social Session
Join us for in informal and fun social session as we cap-off the IPM workshop with Bees & Beers.
We're pleased to welcome Hans Doef of Blindman Brewing to share how they recently collaborated with two local beekeepers to create their first ever honey lager, and how their commitment to pure, locally sourced ingredients the inspires them to create innovative, quality, flavorful craft beer.
We hope you will take to moment to grab yourself a refreshing drink (perhaps a Blindman Beer…?), relax, and listen to the Blindman story. Then enjoy some time connecting with friends and other beekeepers through the networking platform wonder.me.
Check out all the details of Bees & Beers here.
Please download these tips for wonder.me now