Due to COVID-19, this event has been postponed to 2022.
Announcing the inaugural Western Canadian Integrated Pest Management (IPM) Workshop and Trade Show event in Edmonton, Alberta in February 2021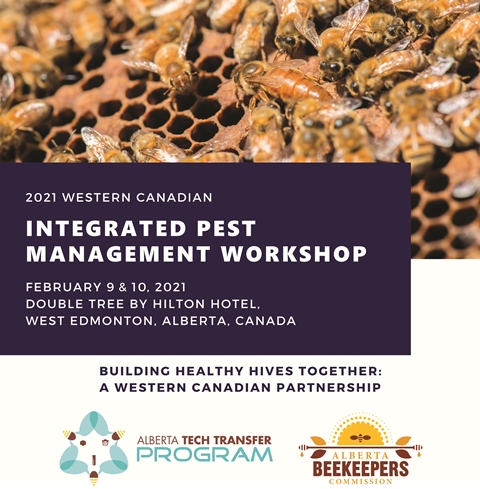 We're pleased to announce the Alberta Beekeepers Commission will be hosting the inaugural Western Canadian IPM Workshop and Trade Show event on February 9 & 10, 2021, in Edmonton, Alberta Canada.
This event  is designed to bring together beekeepers, industry groups and leaders, researchers, specialists, and trade exhibitors/suppliers from across Canada and the US to engage, learn, and share best practice through a series of presentations, panel discussions, interactive sessions, activities and trade show.
The theme for the 2021 IPM Workshop and Trade Show is:
'Building Healthy Hives Together: A Western Canadian Partnership.'
This event will focus on topics including:
supporting bee health and nutrition
managing bee diseases and pests
showcasing innovative solutions to beekeeping challenges
highlighting the latest in bee research
creating a healthy and sustainable beekeeping industry
Here's why you should be involved in the inaugural Western Canadian IPM Workshop and Trade Show:
CONNECTION
This event provides the perfect opportunity to connect and network with beekeepers and honey producers, researchers, and industry experts from across Canada. The ABC represents over 165 commercial beekeepers and honey producers from across Alberta, who account for more than 98% of Alberta's 303,500 colonies.
EXPERTISE
Discover the latest in bee health, research, technology and innovation through a series of presentations, activities, and panel discussions by researchers, industry, and experienced beekeepers.
INDUSTRY
Alberta is the number one honey producing province in Canada, and third largest honey producer in North America. Tap into this progressive, innovative, growing industry. The 2021 IPM will provide the Canadian beekeeping industry with the ideal opportunity to host regional and national meetings in conjunction with this event, and we are pleased to announce that the Canadian Honey Council (CHC) and the Canadian Association of Professional Apiculturists (CAPA) will be joining us to host their Annual General Meeting (AGM) at the venue during the event. Additionally, CAPA and CHC will also be jointly hosting the Canadian Research Priorities Workshop during the event.
OPPORTUNITY
Benefit from potential business growth opportunities by showcasing your business and promoting your people, services, products, brand and organization.
We hope that by collaborating across Canada and the US, we can continue to enhance and strengthen the beekeeping and honey industry and foster long-term partnerships that will support valuable industry growth.
Sponsor and exhibitor opportunities available now!
We have some exciting sponsor and exhibitor opportunities available! Download our sponsor and exhibitor pack now to take advantage of unique brand exposure opportunities.
For more information, please contact Jules Ham at jules.ham@albertabeekeepers.ca