2022 Integrated Pest Management Workshop & Breeder's Day
– Hybrid Event –
February 10, 11, 12, 2022 | Double Tree by Hilton West Edmonton | Edmonton, Alberta Canada.
This event is designed to bring together beekeepers, industry groups and leaders, researchers, and specialists to engage, learn, and share best practice through a series of presentations, panel discussions, interactive sessions, and activities.
The IPM Workshop and Breeder's Day will be HYBRID events that will be taking place IN-PERSON at the Double Tree by Hilton West Edmonton, and VIRTUALLY online.
Double Tree by Hilton West Edmonton Hotel adheres to the COVID-19 policies and guidelines set out by the Government of Alberta and the City of Edmonton.
Unable to attend in person? No problem! Purchase a virtual pass to watch the event live from your home. A virtual pass includes:
Live stream via Zoom
High video quality
Q&A in real time
Access to presentation videos post-event (available to all attendees)
The theme for the IPM Workshop is:
'VARROA MITES, VIRUSES AND THEIR MANAGEMENT'
This event will focus on topics including:
Supporting bee health and nutrition
Managing bee diseases and pests
Showcasing innovative solutions to beekeeping challenges
Highlighting the latest in bee research
Creating a healthy and sustainable beekeeping industry
View the list of IPM SPEAKERS here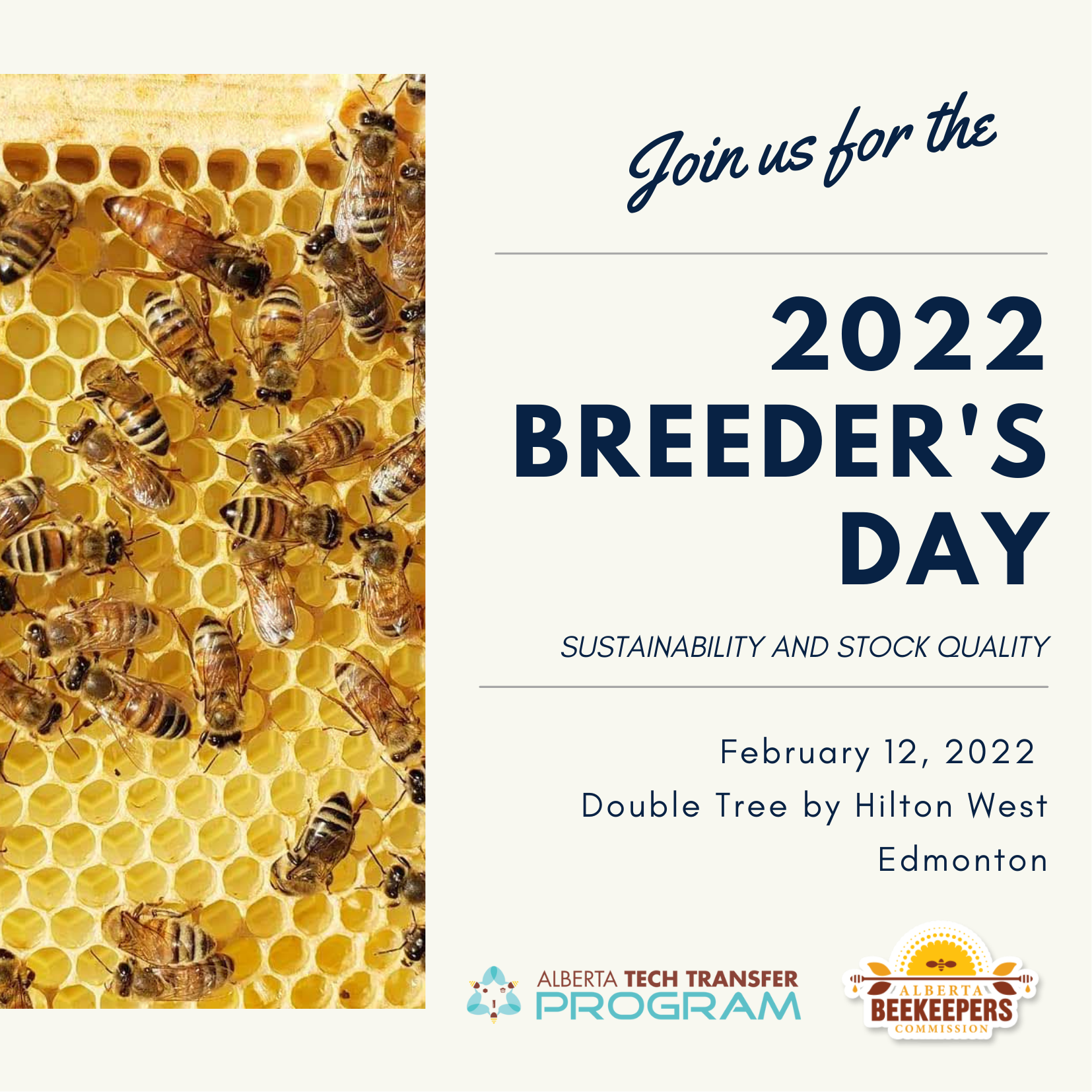 The theme for the Breeder's Day is:
'SUSTAINABILITY AND STOCK QUALITY'
Being part of a bee breeding program requires training, dedication, diligence, financial input, time, meticulous record keeping, regular colony management, and proper scheduling.
The Breeder's day purpose is to disseminate and transfer knowledge queen rearing/breeding management practices, facilitate communication among queen producers, discuss current queen related research and future queen research priorities.
Join us to hear from experienced Alberta beekeepers on queen rearing management practices, and outstanding researchers on the latest queen rearing and breeding research.
View the list of Breeder's Day SPEAKERS here

Accommodation:
Click here to book accommodation at the Double Tree by Hilton West Edmonton at our discounted rate!
Here's why you should be involved in the IPM Workshop and Breeder's Day:
CONNECTION
This event provides the perfect opportunity to connect and network with beekeepers and honey producers, researchers, and industry experts from across Canada. The ABC represents over 165 commercial beekeepers
and honey producers from across Alberta, who account for more than 98% of Alberta's 303,500 colonies.
EXPERTISE
Discover the latest in bee health, research, technology and innovation through a series of presentations, activities, and panel discussions by researchers, industry, and experienced beekeepers.
INDUSTRY
Alberta is the number one honey producing province in Canada, and third largest honey producer in North America. Tap into this progressive, innovative, growing industry. The 2021 IPM will provide the Canadian beekeeping industry with the ideal opportunity to host regional and national meetings in conjunction with this event, and we are pleased to announce that the Canadian Honey Council (CHC) and the Canadian Association of Professional Apiculturists (CAPA) will be joining us to host their Annual General Meeting (AGM) at the venue during the event. Additionally, CAPA and CHC will also be jointly hosting the Canadian Research Priorities Workshop during the event.
OPPORTUNITY
Benefit from potential business growth opportunities by showcasing your business and promoting your people, services, products, brand and organization.
We hope that by collaborating across Canada and the US, we can continue to enhance and strengthen the beekeeping and honey industry and foster long-term partnerships that will support valuable industry growth.
Registration includes lunch and coffee breaks, and all workshop materials.
Sponsor opportunities available now!
We have some exciting sponsor opportunities available! Download our sponsor pack now to take advantage of unique brand exposure opportunities.
For more information, please contact ttp@albertabeekeepers.ca
---

[/vc_column_text][/vc_column][/vc_row]